At the Museum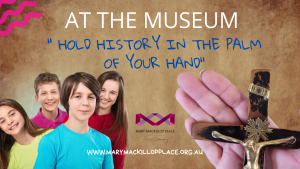 Delivery of learning experiences at the museum can be self-guided and can therefore be designed with the aid of the supplied activity resources and use of the Museum Activity Trolley for students.
The Education Breakout Room for object handling opportunities Holding History in the Palm of your Hand for stages 3 & 4 and stages 4 & 5 is available for your use.
Object study & inquiry learning with the Activity Trolley
Student activity sheets provide access to replica items for inquiry-based learning outcomes. The activity also supports RE outcomes in revealing the personhood of Mary MacKillop and the vision of Julian Tenison Woods to minister to all Australians.