'Seeking Humanity: Portraits and Stories of Australia's Asylum Seekers and Refugees' exhibition by Wendy Sharpe
2015
Official Launch – 10 December 2015
Wendy Sharpe's exhibition shows a series of portraits of asylum seekers compiled in 2015. Wendy's subjects spoke with her about themselves, their homes, careers, where they came from and often – the families they had left behind.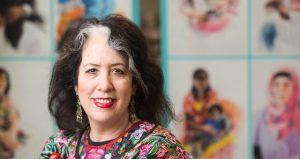 For Wendy, these stories are relevant and inspiring: and for those being portrayed, both the process and the finished artwork recognise their hopes, dreams and shared humanity.
The exhibition is made possible by the generous support and partnership formed with the Asylum Seekers Centre in Sydney. These portraits were gifted by Wendy Sharpe with the sale of each work providing financial assistance for the work of the centre.
The Asylum Seekers Centre provides practical and personal support for asylum seekers living in the community. Their services include casework, accommodation, financial relief, health care and counselling, employment assistance, education, food, advocacy and recreational activities. The centre is a not-for-profit organisation relying on grants, donations and volunteers to undertake its work.
This special exhibition was officially opened on Thursday 10 December by Maree Whybourne (CEO Mary MacKillop Foundation) at Mary MacKillop Place Museum.