The Diary of The National Pilgrimage
November 25, 2017
We embarked on our annual National Pilgrimage on the 8th November… below follows a diary account of each day. We hope to see you there next year!
9 November: Day Two of our National Pilgrimage, "In the Footsteps of Mary MacKillop.
Our day began with traveling to Point Ormond where Mary's mother Flora and her mother arrived in Australia. We then drove to St Francis Church where her parents were married and Mary was baptised, received her First Communion and was Confirmed. We then visited the site of Mary's birth and prayed there. Across the road there is a piazza at ACU that honours Mary with a timeline and statue of the young Mary. We spent the afternoon hearing about the contents of the Museum at Mary MacKillop Heritage Centre. Mary's followers, the Sisters of Saint Joseph, are still involved today in ministries that serve the poor, isolated and disadvantaged. Melbourne graced us with a perfect day to enter the story of Mary MacKillop. Tomorrow we head to Portland.
10 November: Today we travelled from Melbourne to Portland via Hamilton.
On the way we travelled through areas where Mary, her mother and siblings lived at various times with relatives. We also explored one part of her family tree. Our day was interspersed with prayer and reflection on our inter-connection with all of creation. We also reflected on, and gave thanks for, all who have shaped our faith and made us into the people we are today. We acknowledged that part of the shaping took place though negotiating difficult times. A significant part of our day was visiting the grave of Alexander MacKillop in Hamilton. In all of his giftedness and inadequacies he was dearly loved by his wonderful wife Flora and his children. Tomorrow we spend time with Mary and her time in Portland, a place and time so very significant in her life's journey.
11 November: On Friday evening we arrived in Portland.
It was here that through various happenings that Mary was able to make the decision to leave the family and go to Penola. On Saturday morning we visited Bayview College, the place where Mary lived. We prayed there and then looked through the building which is also significant for the Loreto Sisters. After morning tea we went back to All Saints Church where we took a minutes silence and had prayer for Remembrance Day. Being in this Church we were invited into reflecting on the storm in Mary's life and her trust in God. We too walked through the door of the Church that Mary would have walked through, having made her decision. We reflected on times we have been called to trust in God. Our journey then took us to beautiful Nelson where we had lunch by the River in the brilliant sun, and surrounded by the beauty of nature. A delight to the heart. Arriving at Port McDonnell we skipped ahead in our story. It was from here that Mary and Rose Cunningham set sail for Adelaide as they responded to Fr Julian's request to come to Adelaide to minister. It was Uncle Peter, who loved Mary dearly, who took the two to Port McDonnell. Again we reflected on the Port McDonnells in our lives, times we have been called to let go of the familiar and walk into the unknown. A stop at the Blue Lakes in Mt Gambier again treated our senses. It was then on to Penola where we checked into our accommodation and were treated to a lovely dinner by mothers from the Mary MacKillop Memorial School. Of course were also treated to some of the lovely wines from this Coonawarra District. Today we will be immersed in the Penola story.
12 November: Today we joined the Penola Catholic Community for Mass after which we shared morning tea and conversation.
Claire then gave us an introduction to the Interpretative Centre and left us to delve into the story of Mary and Julian in the Galleries, the School House, rooms in which the Sisters slept and the Station House. Our morning concluded with prayer and reflection in the Church. Where and how do we hear the whispering of God to our heart and how do we respond? A feature of the Church is the stained glass windows of the refurbished porch.
The windows are made from remnants of windows in the original Church. A delightful lunch and impromptu entertainment were gladly received. The afternoon was taken up with a tour of this very historic town, including the Stable Park and the Woods Park. Before returning to the School Hall for yet another delightful meal and speech by local historian Margaret, there was a little time to catch some rest. Despite the heat, which at its peak reached 38 degrees Celsius, it has been a very good day. Thank you people of Penola for your generous hospitality, continued in the tradition of Mary and Julian. Tomorrow we are off to Adelaide via Robe.
13 November: It was a long day today.
Leaving Penola at 8.50am we headed towards Robe. The Church there is the one remaining of three that Fr Julian Tenison Woods built. Sisters lived and ministered there for 10 years. Their home was the room behind the sanctuary. Very tiny for two people. We celebrated Mass here in this significant place. The temperature kept climbing so our morning tea was a quick one. Traveling through a variety of landscapes we stopped along the way to pray in creation. "All is wonder, all is peace, all is grace, and we are one." Meningie is a lovely spot on a lake.
Again with high temperatures, lunch was quick. The last leg of our journey brought us to Adelaide. On this part of the trip we reflected on companions we have had on our life's journey. Mary valued greatly Julian as companion and mentor. We also took note of creation surrounding us – the clouds were particularly beautiful. For the next day and a half we will spend time immersing ourselves in the Adelaide story of Mary MacKillop.
14 November: Our day began with driving to St Mary's Church at Port Adelaide.
This is where Julian Tenison Woods took Mary and Rose Cunningham after they arrived from Penola via Port McDonnell and a sea voyage to Adelaide. They arrived on the vigil of St John the Baptist. We were to have celebrated Mass here as did Mary and Rose, however there was confusion with the time, and those who were to open the Church did not arrive. Pilgrims were disappointed but understood this as part of the pilgrim journey. This year we journeyed a little further to the site where the boat,"Penola" would have arrived from Port McDonnell. Morning tea was had at Bonython Park, a lovely green area with shady trees and a lake. It is near the Adelaide Jail. Mary visited inmates here very often, especially a Mr Fagan. The next part of our pilgrimage took us to Franklin Street, the site of the excommunication.
We had time for prayer and reflection in the Chapel, pondering our response to our "excommunications" along our life's journey; our ability to trust in God; our ability to forgive. This experience touched us deeply. At Kensington, the original Mother House was warmly welcomed and we were nourished with a lovely lunch, after which we were guided through a reflection on the Cross in Mary's life and crosses, large and small in our life, and how we deal with them. The final stop for the day was the Cathedral where we prayed in gratitude for the gift, companionship and inspiration of Mary to the people of Australia and the world. We did this in front of her statue. Tomorrow we explore a little more of our Adelaide story then fly to Sydney to continue the journey.
15 November: Adelaide was wet today so our activities were a little curtailed.
Rain was needed so we were able to rejoice. Our first stop was St Ignatius Church in Norwood. The Jesuits were very supportive of Mary when she was excommunicated. She would pray in a little room off the Church body. It was here that she received the habit back after the excommunication. We were not able to see the house Mary stayed in because of the rain. Our final stop in Adelaide before going to the airport was Kensington.
Here we were told the history of Kensington and the Chapel in particular. After some personal reflection time we celebrated Mass. Sisters from the community joined us. There was a compulsory photo call at the conclusion of Mass. After a delightful lunch we boarded the coach for the airport to fly to Sydney. We said goodbye to two wonderful men. People said of Mary MacKillop that she was, "utterly kind". These two men embodied this kindness for us. Nothing was too much trouble, and all was done so very graciously. We arrived at Mary MacKillop Place late but safely. Tomorrow we set out again to engage with the Sydney story of Mary and her Sisters.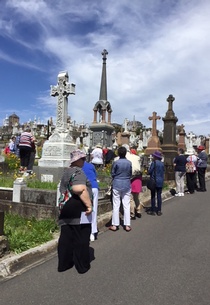 16 November: Gradually our pilgrimage "In the Footsteps of Mary MacKillop" is coming to a close.
Yesterday we journeyed through the Rocks area of Sydney. The Sisters and Mary ministered here to the very poor. They were supported in their efforts by butchers and bakers who provided some food for the Sisters to feed those in need. From the Rocks we drove to Waverley Cemetery where Fr Julian Tenison Woods is buried. Along the way we passed the building in which he spent his last years and then died. The monument to Julian honours him as priest, founder, poet, scientist and missionary. Prior to his death he was re-admitted to the Passionist Order which, in his young years, he left because of ill health. Centennial Park where we had lunch gave us time to not only nurture our bodies with food, but also to nurture our soul and spirit with the delights of nature – birds singing, children playing and a gentle breeze rustling through trees.
Our final destination for the day was the Gore Hill Cemetery where Mary was first buried, before being exhumed and re-interred in the Mary MacKillop Memorial Chapel at Mary MacKillop Place, North Sydney. Many of the early Sisters are also buried there. On returning to Mary MacKillop Place there was time for some rest, and time to take in the tranquillity of this place. We brought our day of pilgrimage to a close with a guided meditation and Mass.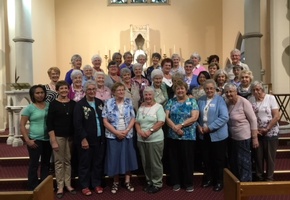 17th November saw the closure of the Pilgrimage.
Pilgrims were guided through the Mary MacKillop Museum to hear the story of places we were unable to visit. They also learned more of the legacy of Mary MacKillop. The afternoon was spent in reflecting back on the journey and how this journey has shaped us. We were encouraged through guided reflection, discussion, personal time and ritual to further deepen our experience, and what it means for our ongoing journey.
At Mass we gave thanks for blessings received and reflected on being the "handmaid"; one who is at the service of God. We are to be the face of God in the world. The face of justice, love, compassion, mercy. God has indeed blessed us. Mass concluded around Mary's tomb where we were commissioned to go forth and be this face of God. The day ended with pre-dinner drinks then dinner, words of thanks and good-bye.
Thank you to all the wonderful pilgrims.
Why not join our Pilgrimage in 2018? The dates are 24th October-3rd November.
Full details will be available during March next year.
Annie Bond rsj