Permanent Exhibitions
The Museum comprises of three permanent gallery spaces, a temporary exhibition space and the historic house museum, Alma Cottage.
---
Gallery 1
This gallery covers the period 1840 – 1860. The gallery has four sections:
Visitor Orientation Video
Path to Sainthood Exhibition
The Mary MacKillop and Julian Tenison Woods Gallery
The Temporary Exhibition Gallery
Path to Sainthood Exhibition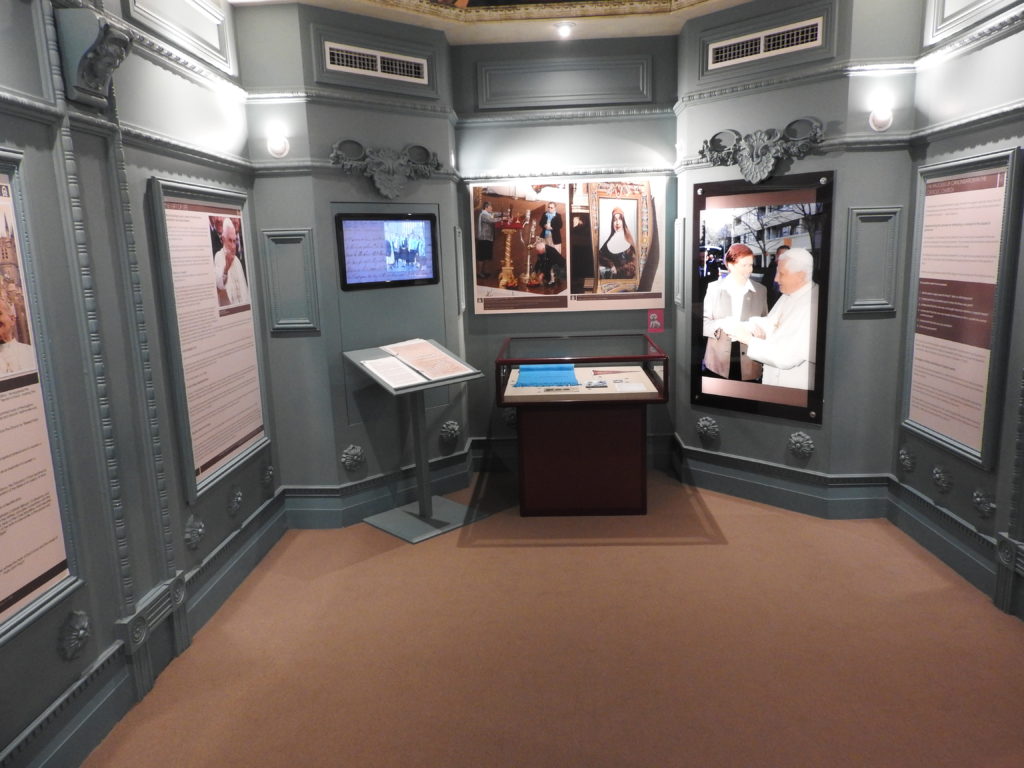 The theme is the exhibition looks at the official Papal visits made over the last 30 years to the tomb of Mary MacKillop. The museum exhibition is aimed to promote a greater understanding of the Roman Catholic Church's process for canonisation.
The exhibition is a direct response to the public's interest in the story of Mary MacKillop's path to sainthood.
The Delezio family highlight the spirit of Mary alive today. The family have been supported by the Sisters of Saint Joseph and attribute Sophie's wellbeing though the intercession of Mary MacKillop.
Video clips and objects on display relive the key events within the history of the course for canonisation.
The Mary MacKillop and Julian Tenison Woods Gallery
The themes include MacKillop family history, the early inception of the formation of the Congregation of the Sisters of Saint Joseph, Fr Julian Tenison Woods the explorer and reformer, early Australian Catholic Church history.
Gallery 2
The Education Learning Space and recreated Penola School house theatrette is dedicated to the history of the Josephite's contribution to Australian education.
A recreated school building transports you to the mid-1800s. The theatrette presents a short documentary revealing the story of Mary and Julian's vision and contribution to education.
Interactive learning space is equipped with integrated communication technology for use in school group sessions. Explore through the use of immersive technology the story of Mary MacKillop and the early pioneering Sisters of Saint Joseph in establishing an equitable education system for all Australians exhibition.
Gallery 3
This gallery covers the events with the life of the order from 1870 – 1880.
Key themes include:
The 1870s European context for the Papal approval of the Constitution of the Congregation of the Sisters of Saint Joseph.
Irish postulates arriving to Australia.
Sisters stories of the establishment of foundations and schools around Australia and New Zealand.
Objects directly relating to the itinerant life of the Sisters, including Maori artefacts gifted to the Sisters who lived and ministered in New Zealand.